About Us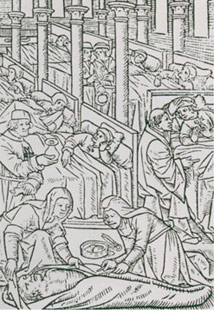 "St. John Ambulance Brigade and Association" was established in Calcutta in 1910. After that gradually branches of this establish in different part of West Bengal and Calcutta.
Our "South Calcutta Centre" was established in 1962 by Principal Kamalakshya Chattarjee a senior professor of City Collage.
Our Moto
To train young students of our collage in First-Aid, Home-Nursing, Hygiene & Sanitation and Mothercraft & Child Welfare, so that they can build up themselves as trained nurses and take up responsibility in case of emergency. They can also take up responsibility of nursing in various Hospitals and Nursing Home. After taking the training they become self dependent and self sufficient and glorify themselves as a bright star and they can raise their standard of leaving in our society.
Objects
The objects of the St. John Ambulance Association (India) are
The instruction of persons in rendering first-aid in case of accident or sudden illness, and in the transport of the sick and injured.
The instruction of persons in the elementary principles and practice of nursing and hygiene especially that of the sick-room.
The provision and distribution by sale or presentation of ambulance material and the formation of ambulance depots in or near mines, factories and other centers of industry and traffic.
The organization of Ambulance Corps, invalid transport Corps, Nursing Corps and Voluntary Aid Detachment.
To assist the sick and wounded in war.
And generally the promotion of instruction and work for the relief of suffering of the sick and injured in peace and war, independent of class, nationality or denomination.